MARCUS MOSELY / Oct 4, 2019
Vancouver's leading voice of gospel, the multi award winning Marcus Mosely brought his passionate music to Bez. He has been has honoured for his significant musical contribution with is induction into the BC Entertainment Hall of Fame and his star on Granville Street. You can find out more about Marcus, his chorale and his ensemble at www.mmc2011.ca
Photos by Brad Jarvis
SHARI ULRICH / Feb 09, 2018
Juno award-winning singer-songwriter Shari Ulrich graced the stage at Bez this evening with a collection of favourites and new tunes. Her disarmingly candid stage presence belied her iconic contribution to Canadian music as she wove together a range of self-reflective and sunny tunes featuring accompaniment on guitar, her brand new violin and keyboards. Check out her latest album, Everywhere I Go or pop by her website to see if she'll be in your area soon. Follow her on Instagram, Twitter or Facebook
Photos by Dwight Friesen
GRAHAM ORD / Nov 03, 2017
It was a night of the blues at Bez! Graham Ord, accompanied by keyboardist and multi-instrumentalist Brett Ziegler, bassist Peter Davyduck, drummer Dan Oldfield and Garth Bowen on the violin, rocked Bez Arts Hub with a rollicking mix of blues classics and original tunes. The show was sold out and will not be quickly forgotten. To catch up with Graham and discover his music, including his hauntingly melodic album with his son Aaron on the celtic harp, drop by his website.
Photos by Dwight Friesen
VIPER CENTRAL May 5, 2018
Canadianna- bluegrass - old time, original and amazing. www.vipercentral.ca
SMITH FRASER DUO / Sept 15, 2017
The Smith Fraser Duo is Andrew Smith and Neil Fraser. Both accomplished musicians in their own right, together they are magical. According to their promotional material, "The Smith Fraser Duo are caught in the middle between folk and jazz. Their concerts reflect influences as diverse as Django Rheinhart, Bruce Cockburn, Dave Brubeck and James Taylor. They play a mix of original and classic tunes, that keep delighted audiences guessing." Last night's show, however, was less about guessing and more about being invited into the pages of their journals and their journeys of the heart. Smooth. Warm. Lively. Rich. They will be doing a few shows in Victoria starting tonight and are off to Germany in the fall so catch them if, and wherever, you can.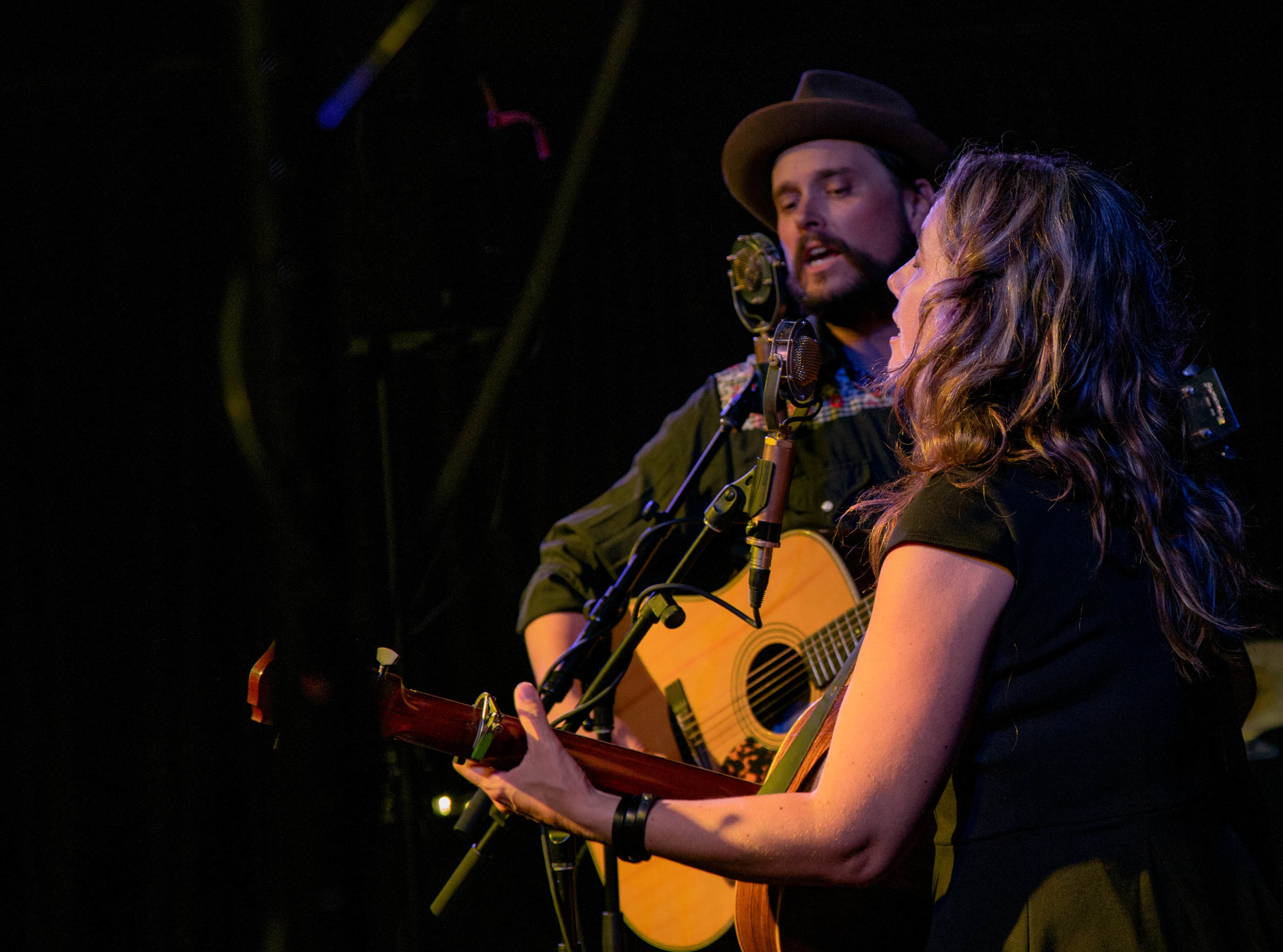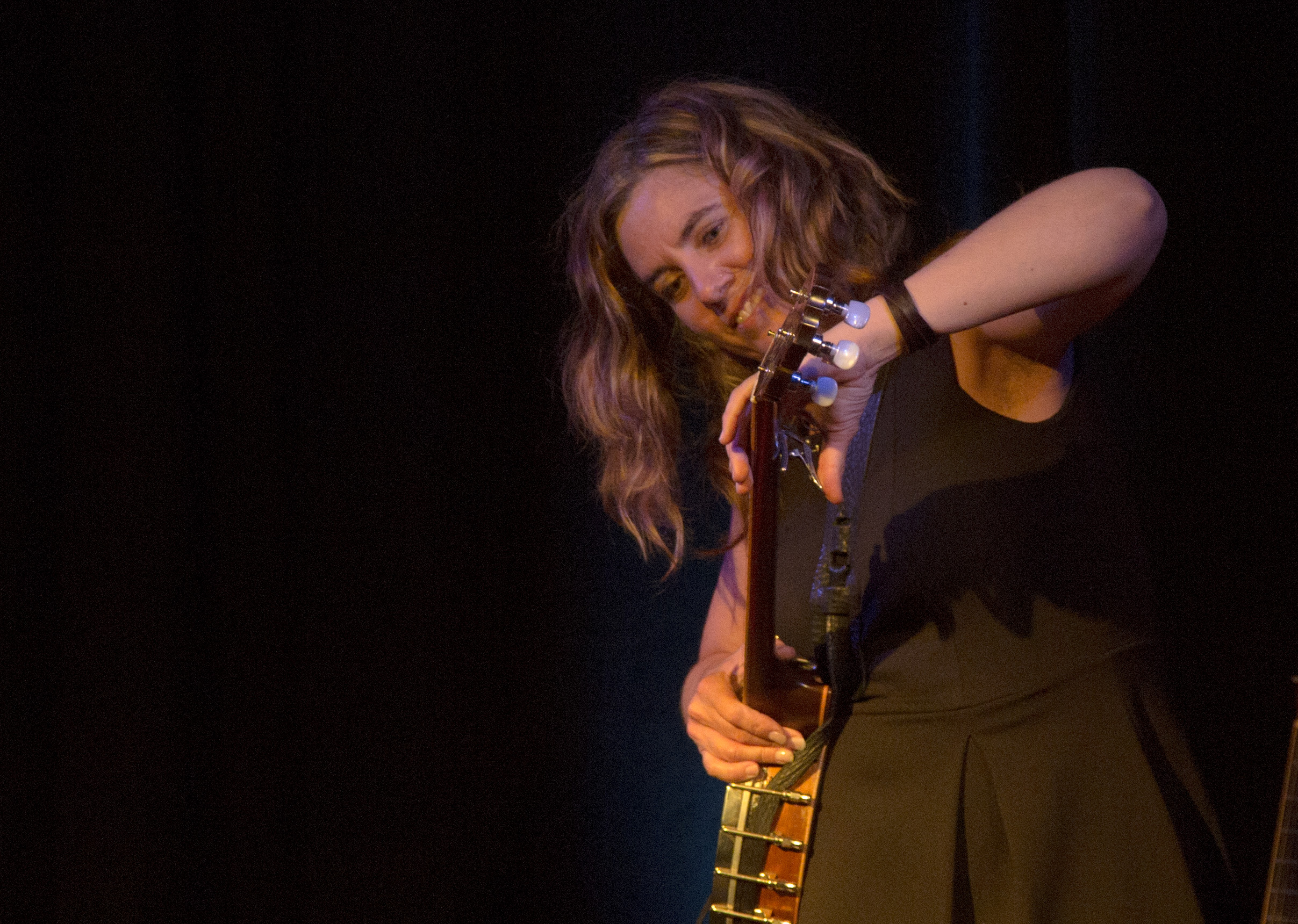 THE SMALL GLORIES / July 14, 2017
We were so pleased to have The Small Glories with us during their tour of their new album Wondrous Traveler. This powerhouse duo filled our space with energy, humour, tight harmonies and a delightful blend of soulful and foot-stomping tunes. Thank you Cara Luft and JD Edwards for being the musical iced tea to a warm summer evening in Langley! One of the things we get a kick out of is watching guests mingle with the artists who are with us and with the people next to them in the seats. We hope you'll make Bez one of your musical homes.
THE EISENHAUERS / May 15, 2017
We were so pleased to have The Eisenhauers with us on day three of their tour of their new album The Road We Once Knew, produced by Steve Dawson and released by Black Hen Music. Catch them on tour, if you can! It was a delightful evening of wry humour, winsome vocals and intimate glimpses into the soul-searching journeys this duo and family have been on of late. Thanks to everyone that joined us and for your enthusiastic comments about our new space. Please come again.
MIRROR ARTS DANCE SHOW / STILL WORDS / April 28-29, 2017
The first dance show in our new venue, featuring works by Mirror Arts Dance students. It was our first event with our new black box theatre space, including recent additions to our lighting, seating and staging options. Both shows sold out! Thanks to everyone for the support.
CHERYL BEAR CONCERT / April 07, 2017
Russ Rosen opened with a couple rousing songs at the Bez Arts Hub in Langley, BC, before Cheryl Bear took the floor for a powerful evening of storytelling and song. Don't miss the next event!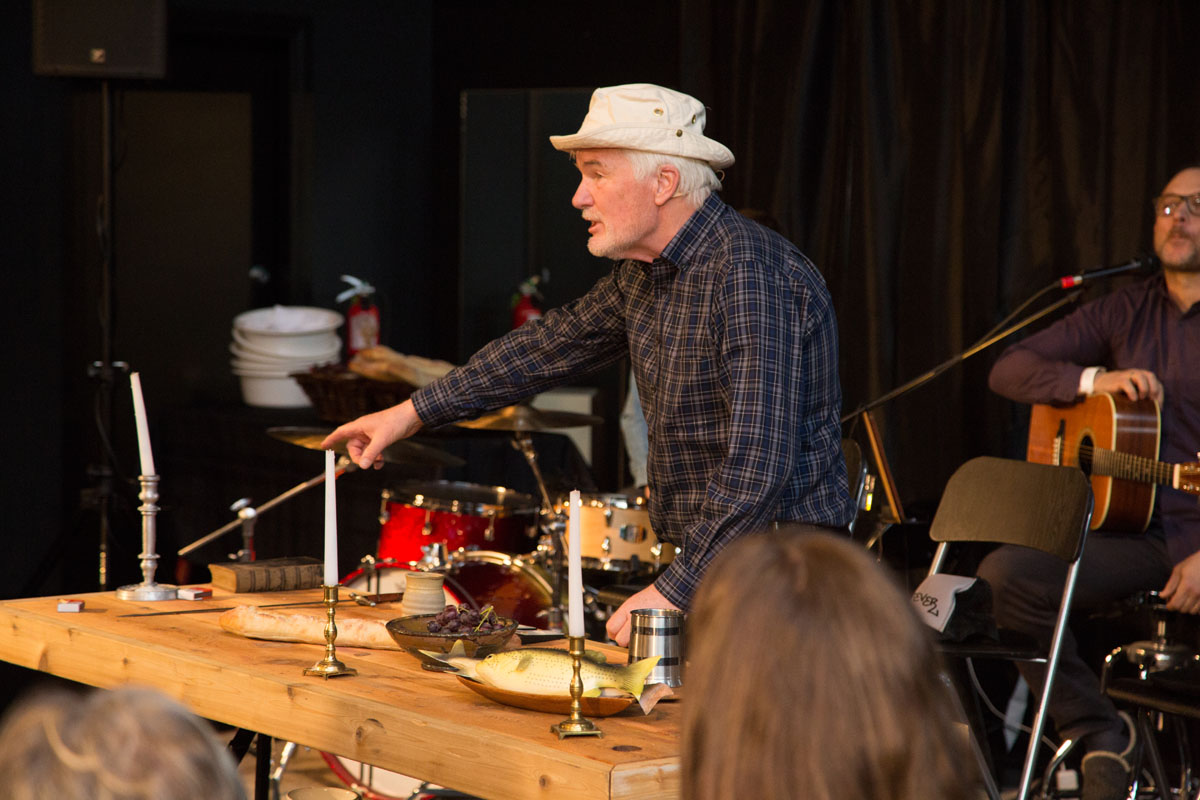 PEACEMEAL / March 26, 2017
In this Lenten season, PeaceMeal was a chance to imagine the old story of the Last Supper anew in the company of storyteller Justyn Rees, singer/songwriter Russ Rosen, multi-instrumentalist Brett Ziegler and drummer Dan Oldfield.
Bez Arts Hub's first community Hootenanny with the Wooly Bears!
It was rollicking night of good down home fun with The Wooly Bears and good friends at Bez Arts Hub. We're planning to do it again, so if you don't want to miss out, sign up for updates on coming events at Bez Arts Hub.